Our Business
Lindsey Trout Dock was purchased twelve years ago by Jim and Gloria Lindsey. They worked hard to make a solid business and, over the years have added space onto the dock and added several new boats and motors to their inventory. The dock stays open most of the year and boats are always available in the off-season on request. We have several experienced guides available for full or half-day fishing trips.
We also have a campground available for tents and RV's. Our campground has electric hook-ups available and we have a bathroom with a large shower stall.
You can book our beautiful cabin year-round. We have a two-bedroom, two-bath cabin situated one mile from downtown Calico Rock in a secluded, wooded area. The cabin has a fully-equipped kitchen, spacious deck with a hammock and grill, and can sleep eight comfortably. Call us anytime to make reservations.
Our Shop
The dock has many supplies needed for your fishing trip. We have a full array of Power Bait, worms, corn, hooks, sinkers, spinners, sunscreen, snacks, drinks, Lindsey Trout Dock hats and T-shirts, ice, and live crawfish. We also sell gas and have rods and reels, paddles, life jackets, and nets available for rent. Arkansas hunting and fishing licenses are always available for sale.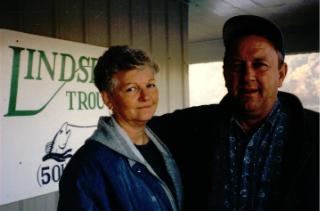 Jim and Gloria Lindsey, Owners